The Life After (Oni Press)
Joshua Hale Fialkov (w) Gabo (a)
Oni Press are a small company producing a range of comics that differ from the mainstream publishers like Marvel and DC. Ranging from "all ages" material like
Courtney Crumrin
to more political Science Fiction such as the excellent
Letter 44
. Its always worthwhile taking a look at their section in the
Previews
catalogue each month to see what they have to offer.
Sometimes ordering from a small company means taking a wee bit of a chance, and that's what I did when I ordered
The Life After
whose solicitation read:
In an infinite city built on infinite sadness, there is one man capable of breaking free. He will go through Heaven and Hell to save us all. Literally. A fantastical coming of age journey through the afterlife and beyond from Joshua Hale Fialkov (THE BUNKER, THE ULTIMATES) and breakout artist Gabo.
I wasn't quite sure what to expect when I started reading the first issue (which had a slightly confusingly laid out two page spread at the beginning) but the adventure soon took a intriguing turn.
And is that really Ernest Hemingway?
Certainly looks promising. Recommended.
Chastity (Dynamite Comics)
Marc Andreyko (w) Dave Acosta (a)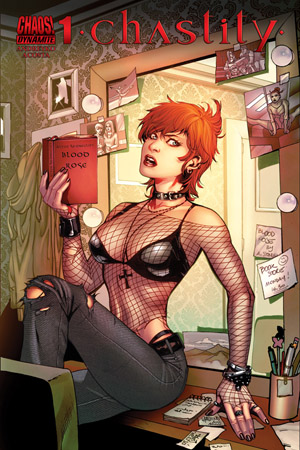 The "return" of Chastity Marks at last.
Except this is a new beginning for a character that was previously published by the now defunct Chaos! comics run by Brian Pullido. Dynamite! has purchased rights to all the Chaos properties except Lady Death, which was published by Avatar until recently.
As a fan of Chastity in her previous incarnation I already have the action figure, lunch box and illustrated coffee mug in my collection, so the return of the undead Chastity is welcome.
And that is what Chastity is, one of the undead, a vampire. A wee bit of a punk girl her origin is updated for the modern market and we are told:
In the 1980's, after a career-ending injury shatters her (and, really, her mother's) Olympic dreams, 17 year-old Chastity Marks finds an escape in a popular series of vampire novels... but little does she know that the novels conceal a secret underworld of blood, agony, and death - a world that she will be dragged into kicking and screaming. The classic Chaos! Character returns - reimagined, rebooted, and ready for blood! Join fan-favorite scribe MARC ANDREYKO (Batwoman, Torso, Manhunter) and artist Dave Acosta for the blood-curdling adventures of a girl who is most definitely NOT your father's vampire!
Should be a fun ride! Recommended!!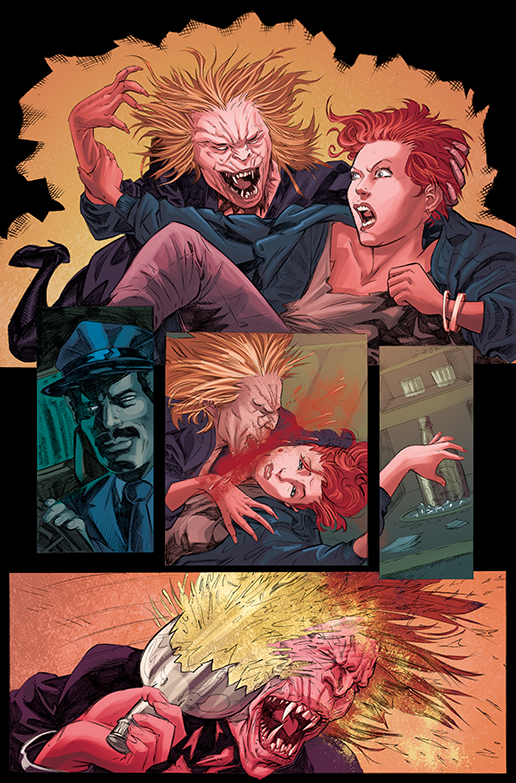 Oooh, bet that hurt!