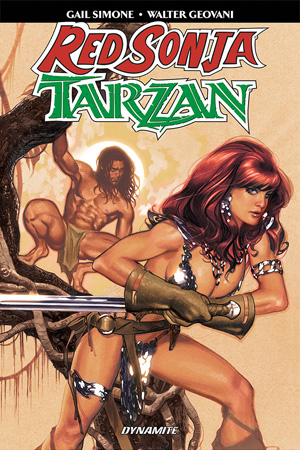 Red Sonja/Tarzan TPB (Dynamite)
Gail Simone (w) Walter Geovani (a)
This is another of those improbable and seemingly impossible crossovers but thanks to the concept of time travel we treated to two classic characters meeting up to fight a rather nasty villain who himself is out of time.
I just love these "mashups" especially when they work and this one certainly does as Lord Greystoke and our favourite flame haired barbarian are a perfect match for this adventure.
The two face Eson Dull, a man who has no respect for life whatsoever. He threatens Trazan's family and sets out after his pack to exterminate his opponent to extinction. Red wants her sword back after losing it in a drunken fight to one of his minions. It is this that is the key.
This well worth picking up!
Rating: 5 Stars