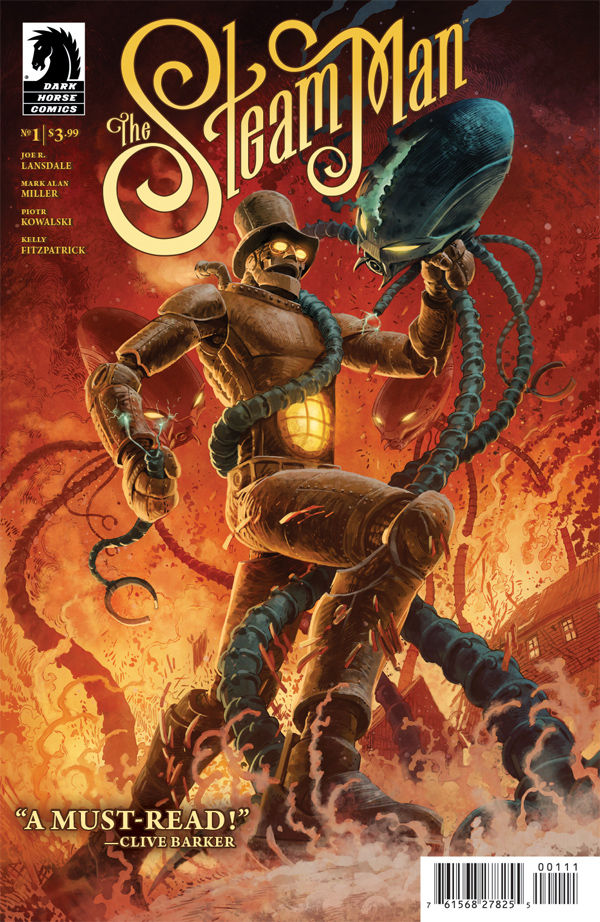 The Steam Man #1 (Dark Horse Comics)
Joe R. Lansdale & Mark Alan Millar (w) Piotr Kowalski (a)
It's War of the Worlds "Steampunk" style, well sort of. The Martians have invaded Earth in 1895 and mankind has built giant steam powered robots to fight back against the blood suckers. Trouble is they were only the foot soldiers. Somethings worse has followed them.
The driving force of our fightback is inventor William Beadle who also seeks vengeance for his wife Matilda taken from him in front of his eyes. He won't rest until he has his revenge.
The enemy he seeks took her blood and left her for the bugs.
William won't rest until one them is dead.
That's the basic background to this entertaining little mini-series from Dark Horse, a much overlooked publisher these days. With a story by the very imaginative Joe R. Lansdale, script from Mark Millar and the gorgeous art of Piotr Kowasksi this a comic not to be missed.