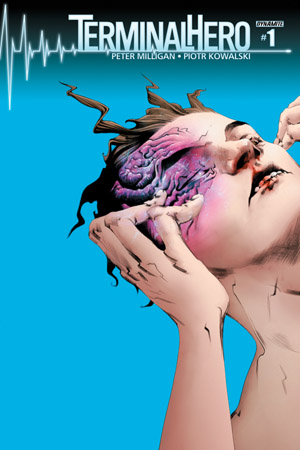 Terminal Hero (Dynamite)
Peter Milligan (w) Piotr Kowalski (a)
This latest offering from the mind of British writer Peter Milligan makes for uncomfortable reading and is the first in a new series of "creator unleashed" titles from the small but growing Dynamite publishing company.
The theme revolves around the main character Rory Fletcher discovering he has an inoperable brain tumour and is dying from cancer. The use or misuse of an experimental drug provided by his mate leads to him developing strange powers and not all goes well as he begins his struggle with the world around him.
Solicited as a "Mature Readers" title, this story will take you as far away from the apple pie and farm boy innocence that you would expect from the Superman line of superheros as you can get. A highly flawed individual, out of control and feeling betrayed may not be the best person to become a super-human.
Dr Fletcher's use of sex and drugs to help him control his conflicted feelings drags him into a mire that turns into a nightmare as the authorities catch up with him.
Where this title goes next is not certain, but we are being treated to one hell of a story.