One thing you couldn't miss growing up in the sixties were the wonderful Gerry Anderson adventure series such as
Fireball XL5
,
Thunderbirds
and
Stingray
. It's hardly surprising given their popularity that these stories made it to comics in the form of
TV Century 21
(later just
TV 21
).
I picked up the copy illustrated above cover dated June 17th 2067, which of course was 1967 but pandering to our futuristic expectations from the first page, also designed to look like a newspaper.
This particular edition not only carries the stuff you would expect from a Gerry Anderson comic but other strips based on the shows we all watched in those days before multiple channels invaded out homes. You'll find the spoof spy story
Get Smart
and
The Munsters
running alongside specially created spin off stories from the world of the twenty-first century.
For a brief time there were two "companion" comics
Lady Penelope
(for your sister) and
Joe 90
.
Lady Penelope
ran from 1966 to 1969, and featured strips such as
The Man from Uncle
and
The Beverley Hillbillies
. Eventually it broke with the Anderson theme until declining sales saw it merge with another girls comic.
Princess Tina
.
Joe 90
was launched in 1969 featuring stories such as
Land of the Giants
,
The Champions
and
Star Trek
. However it only lasted 34 issues before being merged with
TV 21
.
TV 21 and Joe 90
itself ran for another 105 issues (though dropping the
Joe 90
tag after a short while). As interest in the franchise waned, at least in comic form the title (now taken over by IPC) was eventually merged into
Valiant
.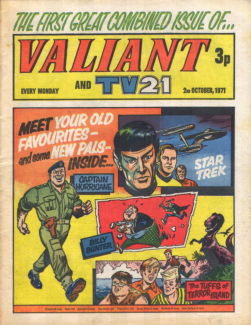 These comics are all gone now mores the shame though there are some reprints of the main features available in bookstores, but for old gits like me there's nothing like the originals.
TV 21
and it's companion comics are a bit more expensive to collect than the average British comic, especially the early issues and Summer Specials.
And then there's the Annuals, the perennial Christmas present!
To finish, a quick reminder of the opening theme from
Joe 90
. Those were the days!