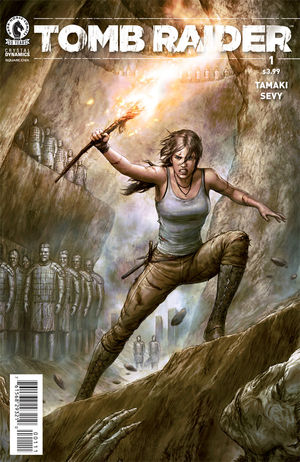 Tomb Raider #1 (Dark Horse)
Mariko Tamaki (w) Phillip Sevy (a)
Lara Croft, the
Tomb Raider
returns in a new (second) series to Dark Horse comics and the search is on for a mushroom. Yes you read that right. It's a mushroom that bestows immortality apparently and Lara isn't interested until a man asking for her help is killed and some nasty looking men turn up.
The game is on...
Tomb Raider started life as one of those computer games that I've never played but came to us in both film (with the gorgeous Angelina Jolie) and comics with a Top Cow version that lasted some time and crossed over with the likes of the now
Witchblade
.
The latest version is more akin to what I would expect of the character outside the previous "Top Cow" universe version and the first issue is well worth reading. Makes a change from the superhero world that most comics revolve around these days.
Here's a short preview courtesy of
Dark Horse Comics
.