Sabrina (Archie Comics)
Roberto Aguirre-Sacasa (w) Robert Hack (a)
It's here! One of the most anticipated releases in ages has finally hit the stands as Archie Comics publish a new take on an old character, Sabrina. The witch if you didn't know already. Already previewed in their successful
Afterlife with Archie
, the story unfolds of a new born witch and the tragedy of her mother who had the misfortune to marry a warlock.
Against the rules apparently, so it doesn't end well.
Set in the sixties this story leads us into the adolescence of Sabrina as she tries to make her way in the world of mere mortals.
This isn't the cozy stuff that either readers of her previous and "mainstream Archie-verse" stories. The world she now inhabits is cruel and vengeance is coming from someone in "her" past.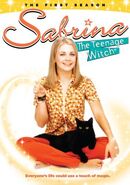 Not connected in any way to the other stand alone
Afterlife with Archie
book this promises to be an interesting ride.
Buffy with balls?
Time will tell.
Recommend to all your friends. This one is gonna be a hit!
Don't go into the woods.....