Over the past couple of months I have been collecting and reading a fair run of the second volume of
Eagle
published in the eighties. Great fun it has been. However I thought it time I had a look back at the first and most famous run of this iconic boys "paper", as British comics usually referred to themselves as.
Launched in 1950, the
Eagle
ran for twenty years before it was absorbed by
Lion
after Odhams gave up comic publishing in the late sixties. The
Eagle
was the home to the most famous British fictional comic character of all time, Dan Dare.
Back in the sixties I recall only reading the
Eagle
itself on a small number of occasions but the
Eagle
Annual was always around somewhere I went so this comic did form part of my youth as they say. I picked up a couple of copies at random in my local comic shop choosing to start from Jan 1967 because the mast said
"Three great new adventures begin today"
.
This included a new Dan Dare story.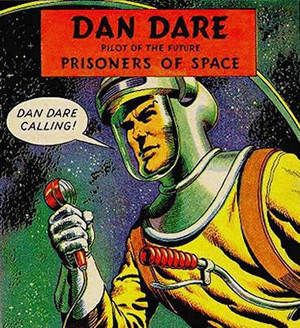 Unlike most
Eagle
covers Dare did not feature on the front page (though this was to be rectified for the conclusion of the
Eagles
run) but had one of those odd features, similar to those run by Valiant. This one was called Did It Ever Happen? Frankly I didn't care either way and moved on to the features.
Page two contained an adventure of schoolboy John Cornelius called
The Miracle Machine
which was fairly tongue in cheek fare typical of the period but beginning to feel a wee bit dated even then
Dan Dare appears in colour on pages 5 and 16 with
The Prisoners of Space
. Cracking stuff. Followed by
The Guinea Pig
in the last part of an adventure where a scientific experiment gone wrong had turned the inhabitants of someones back garden into gigantic menaces.
Giant moles, ants, butterflies..what more could you want?
There was a text story of
Jennings and Derbyshire
whose books I did have and read avidly in preference to my parents choice of
Just William
. The TV show with Bonny Langford put me of that (and her) for life.
The centre pages featured
UFO Agent
, a full colour story I had not read before and involved a certain Major Grant having the ability to change at will into smoke. Confronted with hostile plants what else could a man do anyway.
Alongside features and ads there was also
The Iron Man
, a robot not Tony Stark in a racing adventure.
Finish off with a Western in colour on the back page and that was your fill!
One final note; this issue contained an advert for
Pow!
aimed at a new breed of comic fans. A sign that times were changing.