The comic of my early childhood was
WHAM!
published by Odhams Press, a Leo Baxendale created "super-Beano" which was much more anarchic than previous British humour title and appealed to this young rebel from the first issue.
This issue published in 1965 is one I do recall having ( I tried hard not to miss an issue) as I was also lucky enough to get the first
WHAM!
annual published that year (cover dated 1966 as was the practice in those days) so when when my local comic shop advertised a copy I just had to have it.
And of course I wasn't disappointed. Tales of
The Tiddlers, General Nitt and his Barmy Army
(stealing the grub as usual) and
The Wack
s plus of course Eagle Eye,
Junior Spy
which originated Grimley Fiendish, "the most rottenest crook in the world"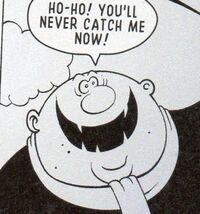 However for me the highlight of every issue of
WHAM!
was
Georgie's Germs
. In this Christmas edition Georgie swallows a sixpence (if you remember those!) and a battle begins between the germs and Georgie to hang on to the prize. Great fun. Glad I never really grew up.
Photo: Lew Stringer/Blimey! Blogspot
By the following year
WHAM!
was part of the growing Power Comics line which would include
SMASH!
and eventually
POW!
both of whom would begin reprinting early Marvel stories for the weekly British market.
WHAM!
was not left out and contained the adventures of the Fantastic Four.
Highly collectable comics.