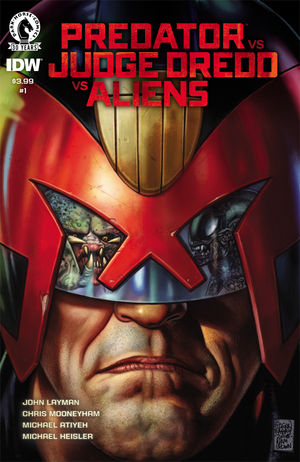 Predator vs Judge Dredd vs Aliens #1 (Dark Horse/IDW)
John Layman (w) Chris Mooneyham (a)
I am a great fan of crossovers and what's not to like about the idea of Judge Dredd meeting up not just with Predator but the Aliens as well. And here it is in an adventure jointly produced by Dark Horse, the US licence holders of the Predator & Alien franchises and IDW who publish the US version of
2000AD's
Judge Dredd.
This is a very "busy" first issue. A bunch of weirdo's tracking down a Predator, Judge Dredd chasing some perps who worship robot-gods and that's just the beginning.
Here's a wee look at a few pages from the first of four issues chronicling this violent adventure.
You have been warned.
Go on. Get yer copy now from the local comic shop.... you know you want to!