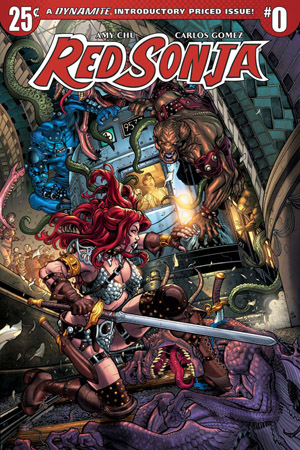 Red Sonja #0 (Dynamite)
Amy Chu (w) Carlos Gomez (a)
Red Sonja's back, and she's pissed! There's a monster between her and a "flagon of ale" and nothing keeps her from that. Except a certain villainous mage called Kulan Gath. And he tells her the game has just begun.
Next thin Sonja wakes up with a head like "a stygian hangover" and here's a noise . Is this another monster for her to fight? No she's woken up in a tunnel in modern day New York and sees men drilling and an underground train.
Obviously the police do not take too well to a scantily clad woman waving a big sword around and she's ordered to drop her weapon.....
And so begins the new adventures of Sonja in this bargain priced introductory issue. Grab a copy now and order the on-going series starting in January.