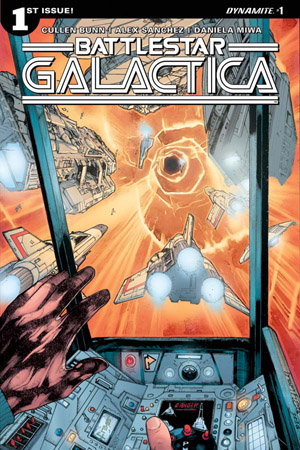 Battlestar Galactica #1 (Dynamite Entertainment)
Cullen Bunn (w) Alex Sanchez (a)
Dynamite Entertainment have just published the first issue of a new mini-series featuring the original crew of the TV show
Battlestar Galactica
. In this adventure we see the fleet enter a black hole that appears without warning and though slightly damaged and some losses the remnants of the human race find themselves in an uncharted part of space.
Meanwhile Captain Adama is seemingly in a coma despite his brain showing levels of activity which should mean he's awake. Adama finds himself in what he thinks must be a dream world but is there more to it?
Apollo takes a group of vipers ahead to investigate this unknown region and finds a planet that may hold the key to this mystery. But eyes are upon them as the Cylons relentlessly follow Galactica and it's fragile fleet into the black hole themselves.
But the Cylons are attacked. And their attackers are not human.......
Issue 1 is in comic shops now!