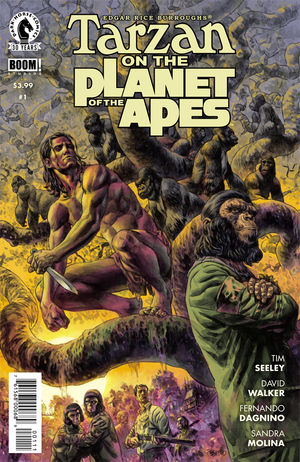 Tarzan on the Planet of the Apes #1 (Dark Horse/Boom!)
Tim Seeley & Avid Walker (w) Fernando Dagino (a)
One of the great joys of comics is their ability to bring together characters that would otherwise never meet in one story. Personally I'm a big fan of these "mash-ups" and in recent times we've seen Vampirella/Aliens, Green Lanterns/Star Trek, Doctor Who/Star Trek and James T Kirk managed to make Planet of the Apes.
Now at long last Tarzan meets the Planet of the Apes. I'm just surprised no one thought of this earlier. The two franchise would seem an ideal mis-match. So throw in slavers, dinosaurs and holes in time and space and here it is. Tarzan being brought up by Cornelius and Zira albeit in 1901 with other action taking place in 2016.
No idea why that is yet...there's another four issues to go of this one yet.
All will be explained...
Oh and for the fanboys it's just been announced that there will be a Planet of the Apes crossover with Green Lantern... Ok....