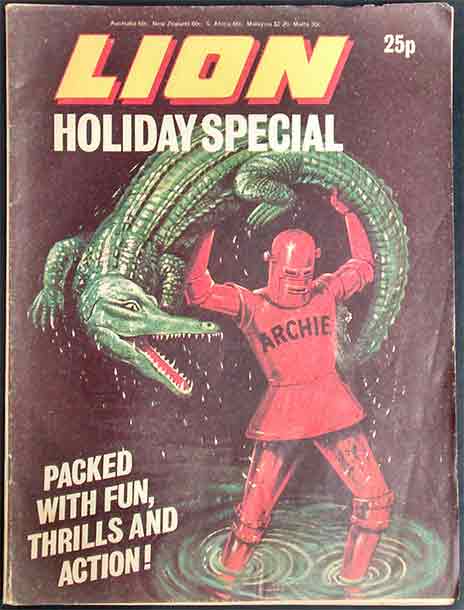 Photo:
30thcenturycomics.co.uk/
Lion Summer Special 1976 (IPC)
No Credits (w) & (a)
One of the great joys of summer holidays was the appearance of the giant special issues of British comics. The publication of a
Lion Summer Special
was a treat in itself since Lion no longer existed and had been merged with Valiant, an event that caught me by surprise but this was the beginning of a new age of comics and old fashioned boys papers were slowly disappearing though in 1976 still had some life left in them!
Sixty-four pages of adventure and humour awaited the intrepid reader, though disappointingly the Robot Archie story was a text piece which did not appeal. I wanted to read a book I would and did, but this was a comic and I wanted comic strips. Never understood why the publishers did this except perhaps to save costs?
Nevertheless there were great stories inside.
Trelawny of the Guards
appeared several times in WWII adventures which were a staple diet of British comics even in the seventies. The longest feature was the spooky
The Devils Artist
, split in two parts within the comic. Great story, great art. This had obviously been appropriated from another comic but I've no idea which.
Steel Commando
had an appearance and recently was revived in Rebellions
Vigilant
one-shot. This was set in occupied France and except for the robot was a typical WWII yarn.
Humour had it's day with
Mowser
and
The Spooks of St Luke's
in one page stories that always raised a wry smile from even this old git!
The rest of the comic was filled with all those one page "did you know" type features and err... fishing tips.
Lion Summer Specials
appeared between 1967 and 1980.