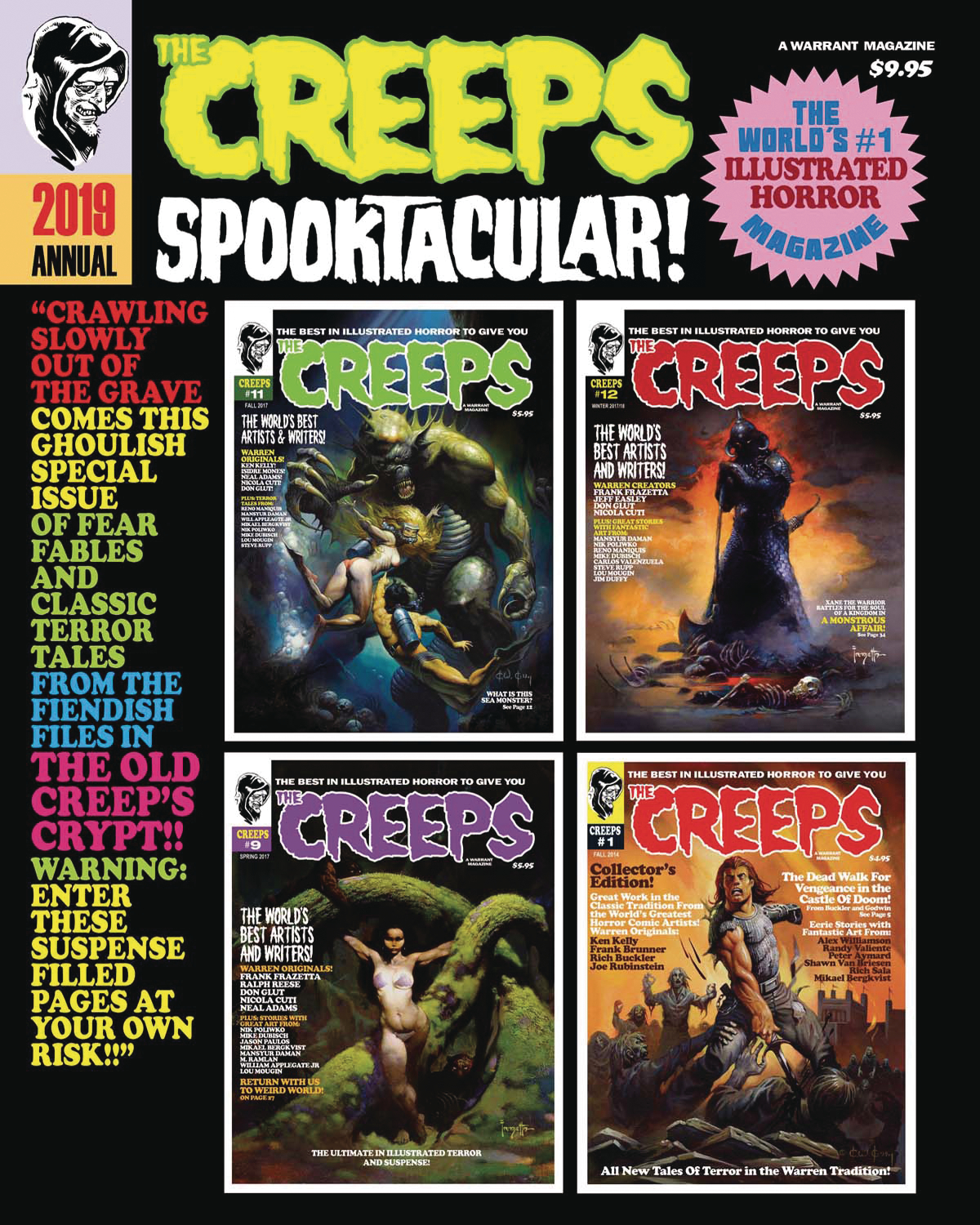 The Creeps Spooktacular: Annual 2019
Various (w) & (a)
Hot on the heels of the publication of
The Creeps
#15 comes the 2019 Annual with no less than 11 great stories from previous issues of
The Creeps
, all from before Diamond started distributing them and at last making the mag available in the UK.
As a big fan of both horror comics, the Warren tradition and black & white formatted magazines this was something I just couldn't miss purchasing. And I wasn't disappointed.
The first story from The Creeps #5
Ghoul Boys
written by Artie Godwin with art from Nik Poliwko finds the kids exposing the activities of a local ghoul before and going home to a slap up meal!
Violins
by Nicola Cuti,writer and artist M. Ramlan follows with ghostly apparitions getting revenge for their murder. Originally published in
The Creeps
#7.
Horrors of the screen come up in Nightmare in Nitrate from Creeps #4 by Don Glut with art from Mansyur Daman. Then there's a science fiction yarn The Sands of Life written by Artie Godwin with artist Reno Manquis. Picking up survivors of a long dead race is not always a good idea.... also from The Creeps #4
Readers will be mortified by
The Talking Dead
by Don Glut & Nik Poliwko is reprinted for your pleasure from
The Creeps
#8 and there's a twisted western
The Desperado
from
The Creeps
#3 from the very busy Artie Godwin with art by Mansyur Daman. Gunslingers get their devilish rewards!
Clowns are some peoples biggest phobia, which won't be cured in this horrific tale simply entitled
Clownin' Around
as schoolkids sneak out the big tent for a lark that may well be their last brought to you by the pen of Lloyd Smith and the pencils of Nik Poliwko, another Creepy regular. From Creeps #8
Next up is a helping of damsels in distress and wicked mages as our hero heads for the castle to free a beutiful maiden. This being a horror tale means there's a wee bit of a twist. I wouldn't eat any meal on offer herein.
Castle of Horrors
is regurgitated from
The Creeps
#7 in a story by Artie Godwin
A second helping of science fiction is served up in Life Cycle by Artie Godwin (told you he has been busy) with art by Jason Paulos.
There's two final tales to add to your nightmares as a paedophile gets his just reward in
The Darkest
Corner
with spooky art from Peter Aymard and written by Artie Godwin.
Eternal Life
is not always what it's cracked up to be in the final tale of revenge by Artie Godwin and art from Alex Williamson. Stories from
The Creeps
#1 & #2 respectively.
Not a dud story in this bumper package. Well worth picking up to read just before you go to sleep.
Happy nightmares!