Lion Summer Special 1970 (IPC)
The summer special like their parent comics are a thing of the past. Long gone are the days when you could walk into a newsagents and pick up copies of boys (or girls) adventure comics. A shame really.
However it isn't too difficult to pick up copies of old British titles like Lion at reasonable prices, though the summer specials tend to be a lot scarcer and are little more expensive. The Lion Summer Special from 1970 is the first one I've picked up during the time I've turned my own attention to the long gone British comics scene. Grades as "Good" it set me back £15, which was more than some of the Annuals that were on sale, but well worth the price of admission.
Robot Archie
opened the 96 page special with a complete story set during his time travelling days in a giant "castle" chess piece time machine with his pals Ted Ritchie and Ken Dale. The story was historically inaccurate but not out of place for the time. Take one dinosaur and a group of volcano worshipping cave men and you have a story.
Lion had the inevitable football story
Carsons Cubs
, more light hearted fare such as
Stringbean and Hambone
who travelled on a barge with a magic lantern (that they didn't know granted wishes)
Mowser
(a cat who lived with an aristocrat), war stories, there was also
Zip Nolan
, surprisingly an American policeman where the reader was invited to look for the clue.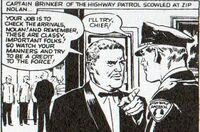 Of course
Lion
lasted a long time and became one of the iconic British comics until it's demise. I'll be returning to this title in due course. If you come across a copy they are worth picking up!