The Savage Sword of Conan #17 (Marvel Comics)
Various (w) & (a)
Back in the seventies Marvel Comics produced a number of black & white magazine titles aimed at older readers in an attempt to compete with Warren Comics who dominated that particular market with
Creepy, Eerie
and
Vampirella
. Most of Marvels attempts did not last long with one exception.
The Savage Sword of Conan.
Conan's magazine lasted for 254 issues, published from 1974 to 1995. A very good run for an iconic character who also had his own monthly full colour title published in the normal format by Marvel.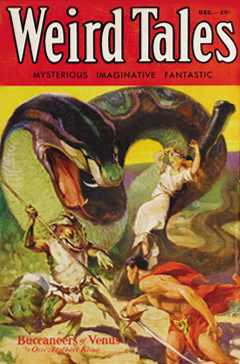 Conan the Barbarian first appeared in the US "pulp" magazine
Weird Tales
in December 1932 in a short story by Robert E Howard and became almost an instant classic. Most of his stories have been adapted by Marvel (and nowadays by Dark Horse) in comic strip form. There have even been a couple of films of which Arnold Schwarzenegger's version is probably the better known.
This particular issue reproduces part of the story
The People of the Black Circle
. This contains all the elements you would expect from a Conan tale; kidnapped woman, brigands, wizards and lots of action. The artwork is of a high standard and of course is black & white.
However what really caught my attention in this issue was the supporting feature Curse of the Black Stone with the Pictish King Bran Mak Morn.
This tale written by Roy Thomas with highly detailed artwork from Tom Conrad was the highlight of the issue despite being a pretty grim tale as our hero searches for a "lost" race and has to pay for help by sleeping with a were-woman.
Bran Mak Morn is also a Robert E Howard creation, first appearing in
Weird Tales
way back in 1930. Certainly worth tracking down the issues of
Savage Sword
he appears in.
A title well worth collecting.