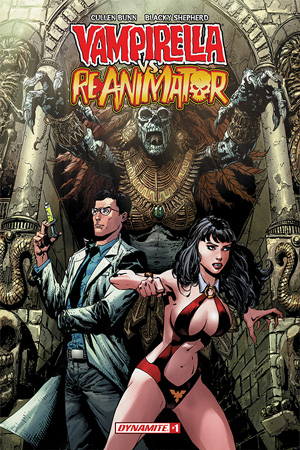 Vampirella Vs Reanimator (Dynamite Entertainment)
Cullen Bunn (w) with Blacky Shepherd (a)
Vampirella returns in yet another horror driven crossover. This time it's one I've heard a lot about but never actually seen. So as far as I can tell Doctor Herbert West is looking for a way to cheat death but his attempts to do result in chaos, mayhem and the living dead. Vampirella meanwhile requires no such introduction. She's our plucky heroine and that my friends is that.
The first issue sets the scene with Dr West raiding a Monastery "somewhere in Mexico" the retrieve some hidden knowledge. as he steals what he wants his undead legions kill everyone in sight as they do.
The story is unusually set in black and white tones with splashes of red for blood (what else) and I rather like the format. It works well with horror which I feel sometimes gets lost in gory colour comics. That's me. Fan of the format. Must be my British upbringing.
Vampirella is fighting Werewolves and is need of a shower. Meanwhile Dr West is awaking an ancient evil....
I like this and have a feeling I've forgotten to order one of the issues (which is a mini-series) and will have to rectify that with my local comic shop after the Christmas break!
Here's a sneak peak. In stores now!