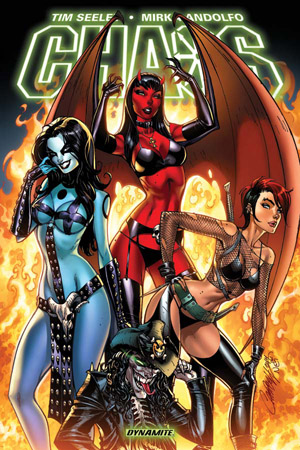 Chaos (Dynamite Entertainment)
Tim Seely (w) Mirka Andolfo (a)
The latest offering from Dynamite re-introduces the characters of the old "Chaos" universe created and run by Brian Pulido. Originally published as a six issue mini-series, the collected edition reprints the whole story with "extras".
Dynamite has been collecting old comic franchises like some people collect stamps. Some of the revivals have been well done, others not so well.
However sometimes there is a reason a line of comics ceases publication.
The original line of Chaos comics were published between 1994 and 2002, though the most successful of the lines comics,
Lady Death
went on to be published in two different formats under the Crossgen imprint until that went out of business and is now published by Avatar Comics.
And that is part of the problem. Evil Ernie was linked to Lady Death and she has had to be replaced by Lady Hel, based on one of the old Norse Gods. Doesn't really sit right to be honest.
Frankly not much of the new characterisations sat right with me and having under-par artwork doesn't help.
However there is one ray of hope. Dynamite did publish a mini-series of Chastity which was very good and when thats collected I would recommend it.
This volume has to get the thumbs down.
Disappointing.