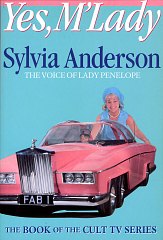 Sylvia Anderson, voice of Lady Penelope sadly passed away today aged 88. Tributes and obituaries have appeared across the media today so since this is a comics related blog I thought I'd do something a little different.
One of the big spin-offs from the renowned TV series Lady Penelope also had a quite long running comic of her own. Lasting from 1966 to 1969 for 204 issues.
Plus of course the usual annuals which lasted slightly longer from 1967 to 1971.
Corgi even made a model of her pink Rolls Royce, which has been re-issued but is currently out of stock even on Amazon!
And here's an excerpt from
Thunderbirds
featuring every ones favourite posh secret agent herself!