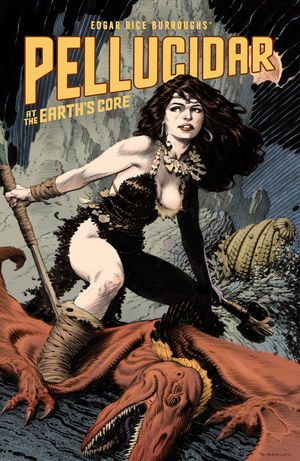 Pellucidar: At the Earths Core (Dark Horse)
Len Wein/Dennis O'Neill (w) Alan Weiss/Michael Kaluta/Dan Green (a)
Edgar Rice Burrough was one of the most creative minds in early fantasy and science fiction and his most famous creation Tarzan still thrills readers and audiences to this day. Others may recall John Carter Warlord of Mars, recently brought to life by Dynamite Entertainment with his "last" story" being published over the next few months.
However there are other Rice Burrough creations that have been semi-forgotten such as Carson of Venus and At the Earths Core which my generation will recall was turned into one of those Doug McClure adventure films we used to watch in the school holidays.
Dark Horse have reprinted the DC version of Pellucidar which appeared in
Korak Son of Tarzan
#1 (DC edition) and subsequently
Weird Worlds
#1-7 where it came to a wee bit of an abrupt halt.
This is quite a violent story, especially for the early seventies when it first appeared in print and relates the adventures of David Innes and Abner Perry as they find themselves trapped in the world beneath the earth where humans are seemingly oppressed by apes but the real enemy are evil reptiles known as Mahars.
The battle for freedom commences but ends prematurely as sales were obviously not high enough to continue this storyline and the editorial blurb simply tells us that legend says David Innes and the beautiful Dian bring peace to the world of Pellucidar.
An inexpensive tome well worth picking up. Hopefully if sales go well Dark Horse will print a companion volume featuring
Carson of Venus
.