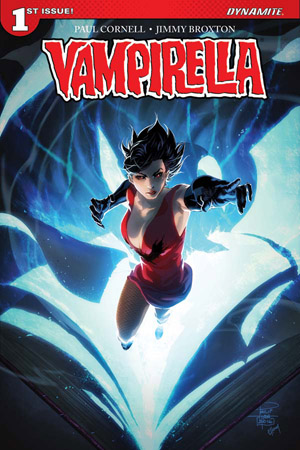 Vampirella #1 (Dynamite Entertainment)
Paul Cornell (w) Jimmy Broxton (a)
A thousand or so years in the future Vampirella has woken up to find herself trapped in a tomb and has to break out into what becomes a strange new world.
And why is blood black?
Almost immediately Vampi engages in battle with winged men before seeking shelter in a nearby and futuristic city where things are clearly not right. That it seems comes not from just observation but a simple statement of a shop assistant who asks why a cat should be named.
Despite her wings and aggressive demeanor she seems to not stand out but a group of rampant males certainly get a good kicking from our favourite vampire.
If I have any criticism of what is a very weird story it is the annoying self censorship. Why make the characters swear if you then blank the words out? Please we're adults and kids are not going to be reading these.
Black boxes in the text just look stupid.
Recommended though!